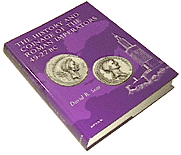 By David R. Sear

This is both a history book and a coin catalogue and in consequence should appeal to a much wider readership than my other publications. It provides a detailed historical commentary on the turbulent events of a period spanning little more than two decades, which saw the transition - sometimes violent, sometimes accomplished with subtlety - of the government of Rome's vast dominions from a republican constitution to an autocratic regime. Interwoven with this commentary is a complete type catalogue (comprehensively illustrated) of the coins issued within each of the six periods covered by the chapters. The significance of each coin type is fully explored within the context of contemporary historical events. The six chapter divisions are: 1. Pharsalus - the Civil War between Caesar and Pompey and its aftermath, 49-47 BC; 2. Thapsus and Munda - the final defeat of the Pompeians, 47-45 BC; 3. The Ides of March and Philippi - the death of Caesar and the downfall of the Republican cause, 44-42 BC; 4. Philippi to the Parthian War - Antony's ascendancy and the growing dissension of the Triumvirs, 42-36 BC; 5. The Parthian War to the suicides of Antony and Cleopatra - Octavian's ascendancy and the final trial of strength, 36-30 BC; 6. The pre-eminence of Octavian - prelude to Empire, 30-27 BC.

360 pages, plus 32 pages of introductory material, including map with explanatory key, and prologue; appendix listing 524 coin types of contemporary local issues, with map; table of comparative rarities and current values; concordances with other standard works; 435 Roman coin types catalogued with valuations; hundreds of photographic and line illustrations throughout the text; numerous topographical illustrations provided by Peter Clayton; published by Spink, London, 1998.
Price $95.00 plus $12.00 postage & handling (domestic orders) or $25.00 (abroad).